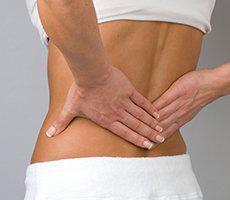 Gateway Pain Solutions is a top-rated provider of back pain treatments for patients in Mesa, AZ. As a board-certified pain management specialist, Dr. Matthew Ranson offers an array of cutting-edge treatment options to help patients receive the best care for their needs.
---
Back Pain Q & A
What are the most common causes of back pain?
Back pain is one of the most common medical complaints among both men and women, and it can be caused by an array of factors, including lifestyle or personal issues like jobs that require long periods of standing or sitting, repetitive activities like bending and lifting, poor posture, being overweight or leading a sedentary lifestyle. Traumatic injuries from car accidents or slip-and-fall accidents are also common causes of back pain as well as related symptoms like headaches, neck pain, or pain or numbness in the arms or legs. Many types of back pain are caused by underlying injuries or chronic conditions like arthritis, spinal stenosis, scoliosis, facet joint disease, osteoporosis, or spondylolisthesis. Many types of chronic pain are caused by degenerative conditions that tend to become worse with age. Having a thorough examination is critical for an accurate diagnosis so the most effective treatment can be provided.
What options are available for back pain treatment?
Back pain treatment depends on the cause of the symptoms. Chronic pain due to lifestyle issues or muscle strain may be treated with physical therapy combined with pain medications and other approaches, like being more physically active, taking breaks at work, or losing excess weight. Other types of back pain including chronic pain caused by underlying medical conditions may respond to physical therapy and pain medication, or they may require more aggressive treatments including spinal injections, stem cell therapy, or minimally-invasive surgical procedures to relieve nerve impingements, restore the damaged area or stabilize the area of the spine where the pain is occurring.
What is kyphoplasty and when is it used?
Kyphoplasty is a minimally-invasive procedure used to treat chronic back pain due to compression fractures in the spine. During the procedure, a small incision is made near the fractured vertebrae and a tiny balloon is inserted into the vertebrae and gently expanded to help the bone resume its normal shape. Once the bone is reshaped, a special acrylic cement is injected into the vertebrae to enable it to maintain its normal shape and position so pain is relieved.
Major Insurance Providers Accepted
At Gateway Pain Solutions, we accept most major insurance plans. Here is a short-list of just some of the most popular plans we accept. Please contact our office for a complete list of all health plans we accept.